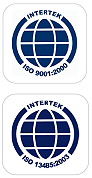 Overview
Benlan Inc., an FDA registered company, is dedicated to providing manufactured products that consistently meet our customers' expectations for quality, service and support. Benlan Inc. subscribes to ISO, Health Canada and US FDA quality requirements to assure safety and efficacy of all medical devices for their intended use.

It is our policy to provide an environment of continuous quality improvement in which all employees share in our commitment. To achieve this objective Benlan Inc. has established a Quality Assurance System planned and developed for company activities. The system uses the appropriate facilities, equipment, trained employees, and processing methods based upon the Quality System Requirements of:

1) ISO 9001 & 13485
2) US FDA Code of Federal Regulations, Volume 21, Part 820
3) Health Canada, The Medical Device Regulations

Benlan also provides regulatory support including assistance with FDA 510K submissions, sterilization validations and methods (gamma and ETO), material selections as well maintaining documentation for compliance.

From the front office down to our 100,000 class manufacturing areas, Benlan Inc.'s commitment to quality is unparalleled in the industry and can be felt throughout the organization. Bottom line, the Benlan team has the knowledge and expertise to support our customers from conception to marketplace and meet the increasing demands and challenges of the health care environment.